Louis Abel-Truchet was born on December 29, 1857 in Versailles.
Before dedicating his entire career to painting, Abel-Truchet was a merchant until 1890.
He trained alongside Jules Lefebvre and Benjamin Constant at l'Académie Julian.
Starting from 1891 he will exhibit at various art shows including most notably at the salon d'Automne, the Société des Humoristes (where he was the treasurer), and Salon des Artistes français.
He was also the founder of the Société Nationale des Beaux-Arts.
Abel-Truchet was an impressionist painter known for his urban city scenes especially of Paris, Venice, Avignon, Monte-Carlo, Marseille, and Tunis. He also painted still life and garden scenes.
In 1914, he enlists himself in the army and is named as the lieutenant of the 1er Régiment de Génie. He commands a section de camouflage and receives the Croix de Guerre and the Légion d'Honneur which he already possessed as a civilian.
Two of his artworks were presented in the Exposition des Œuvres des Artistes morts for the Patrie during the occasion of the Salon d'Automne of 1919.
He died September 9, 1918 in Auxerre.
Museums:
Paris, Musée d'Orsay
Paris, Musée Carnavalet
Paris, Centre Pompidou
Bibliography:
E. Bénézit « Dictionnaire des Peintres Sculpteurs Dessinateurs et Graveurs », tome I, page 26.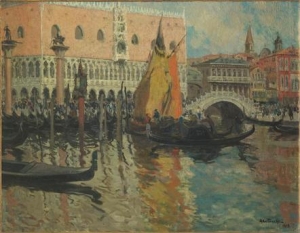 Louis Abel-Truchet - Doge's Palace, Venice - Paris, Musée d'Orsay