Julien Dupré was born in 1851 in Paris.
He is the student of Pils and of de Lehmann. Julien Dupré is a remarkable animal and landscape painter.
He exhibits at the Salon from 1876 to 1881 where he presents some very beautiful harvest scenes (the harvests were usually in Picardy), and some landscapes that proved his loyalty to the precept of Corot, "Never lose the first impression of something that moved you."
The year 1881 marks a turning point in his choice of artistry. His objective as a painter becomes more and more precise. Landscapes take him to pastures and then to farmyards. Therefore, Dupré quickly realizes that it is the animal that interests him more than the natural setting it is in. There is no one that comes close to him when it comes to: playing with light to make an animal's coat look the best, the clothes of peasants, and the neighboring countryside.
Museums:
Paris, Musée d'Orsay
Paris, Le Petit Palais
New York
Carcassonne
Bibliography:
E. Bénézit « Dictionnaire des Peintres Sculpteurs Dessinateurs et Graveurs », tome IV, page 889.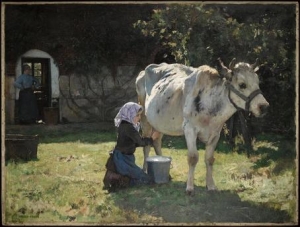 Julien Dupré - The White Cow - Paris, Musée d'Orsay