This is a very beautiful pair of large natural wood à la reine armchairs. They are decorated with a rich cluster of flowers on the apron, backrest, and front feet. The curved feet are molded and ribbed on the arches and decorated with acanthus leaves on the spiral. The arm supports are also decorated with a curved acanthus leaf. Finally, the side aprons are embellished with an agrafe.
These chairs have retained their original upholstery: petit point tapestry that was manufactured in Beauvais and made during the first quarter of the 18th century. It cannot go unnoticed the exceptional condition of the floral tapestries. The blue background is especially rare and beautiful. The freshness of the colors and the near absence of wear of the wool is remarkable.
Crafted in Paris at the beginning of the Louis XV period, circa 1725
Provenance: the old Béghin collection
Condition: These chairs have been restored according to the règles de l'art by a carpenter (specialized in chairs) and an upholsterer which were both specialized in furniture of the 18th century. They are in a very good state of conservation. None of the aprons or feet have been replaced or need to be. The wood is healthy and the chairs are still usable.
Museums that have chairs decorated with the Beauvais tapestry:
Versailles, Château
Paris, Musée du Louvre
Fontainebleau, Château
New York, Metropolitan Museum of Art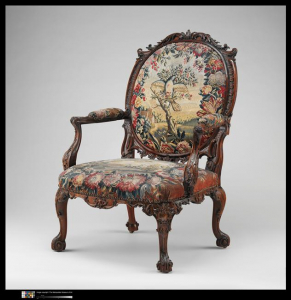 "A la reine" Armchair decorated with a Beauvais Tapestry - New York, Metropolitan Museum of Art