Victor Charreton was born in Bourgoin on March 2nd, 1864.
In 1885, he began to study law in Grenoble.
In 1902, he decided to devote himself entirely to painting and moved to Paris.
From 1905-1913, he frequently traveled to Algeria, Spain, England, Belgium, and Holland.
Charreton followed tradition at the Lyon School and practiced painting landscape scenes in oil and pastel. He especially liked to paint landscapes with impressionistic views and colorful lighting. He painted en plein air and was inspired to paint certain scenes according to the season, lighting, and colors.
Auvergne, Brittany, and Provence were particularly dear to his heart throughout his lifetime.
Charreton is just in between the end of Impressionism and the beginning of Fauvism. Charreton and Guillaumin are often considered the founders of Fauvism.
Our painting represents a vegetable garden in the fall. The artist used a rich color palette to represent the richness of the colors of the vegetation during this season. There is also a game of intertwining shadows that outline the foliage on the walls of the property as they are illuminated by the light of the end of the day. Victor Charreton painted this painting and all of his paintings in a pictorial way. He painted en pleine pâte and used his paintbrush and knife to spread out the paint on the canvas which ensured that the painting would have a remarkable relief. The break in the sky (the piercing blue color) balances this beautiful composition.
Museums:
Paris, Musée d'Orsay and Petit Palais
New York
Madrid
Lyon
Cleveland
Bibliography:
Robert Chatin « Victor Charreton – Vie et Œuvre », édition de l'Amateur, Paris.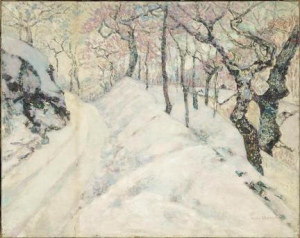 Victor Charreton - The Snow - Paris, Musée d'Orsay