Paul-Michel Dupuy was born on March 24, 1869 in Pau (Pyrenées-Atlantique).
He was the student of Léon Bonnat and Albert Maignan at Ecole des Beaux-Arts in Paris. Influenced by Impressionism, Paul-Michel Dupuy liked working outside (en plein air). He was called "the painter of life and movement."
Dupuy paid particular attention to keeping the quality of his artworks to the highest degree. He left us with very few artworks and most of them are in museums. He painted some incredible scenes of everyday life/leisurely activities on beaches and in public gardens. Children playing on beaches in Normandy or Biarritz, sailboats sailing on the Seine and elegant women with umbrellas in garden alleys of the Tuileries or Luxembourg gardens are all emblematic subjects of this artist. Dupuy also painted portraits of socialites for the high society, and military scenes including famous scenes of World War I (1914-1918).
Dupuy was very well-liked during his lifetime. He exhibited at the Salon des Artistes Français starting in 1896. He became a member in 1899 and won numerous medals. During his career, he received many official commissions such as a painting representing the "Moroccan Submission" which he painted at the request of the Musée des Colonies in 1931. In 1933, he was awarded the Legion d'honneur.
Our painting is a prominent artwork. Its size is larger than average, and the subject is the reason why Dupuy is sought after worldwide. The composition has vibrant colors and numerous figures that are all doing something different. The children bent over working on their sand creations, the figures in the background who are looking out into the ocean or are bathing, and the light breeze which can be seen by the movement of the tents all illustrate the ability of the painter to seize a moment. The artist was able to remarkably account for the changes of light on the sand and the waves. The painting communicates a feeling of peace and happiness to the viewer. The artwork is dated 1923, which is undoubtedly the best period of the artist and where he had mastered his talent the best.
Museums:
Musée d'Orsay, Paris
Musée des Beaux-Arts, Pau
Musée Saint Denis, Reims
Musée des Beaux-Arts, Saint Etienne
Pinacoteca, São Paulo
Etc.
Bibliography:
E. Bénézit, édition Gründ, Tome IV, pages 895-896.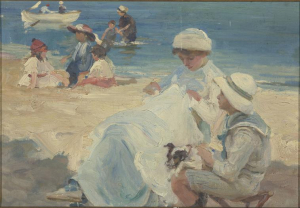 Paul-Michel Dupuy - The Beach - Musée d'Orsay, Paris