Paul-Désiré Trouillebert was born in 1829 in Paris.
He is one of the biggest French open-air landscape painters of the 19th century. Landscape paintings represent more than half of all of his artwork. He also painted portraits, nudes, still life, and genre scenes.
Even though Trouillebert is not part of the école de Barbizon and he paints independently, he can be associated with it because of his predilection for landscapes as well as having his style influenced by Corot. Corot was the founder of the école de Barbizon.
Starting in 1855, after the death of his father, Trouillebert decides to completely devote himself to his passion of painting.
He is trained by the reputed portraitist Ernest Hébert (1817-1908), as well as in the studio of Charles-François Jalabert (1819-1901).
It is primarily because of Trouillebert's portraits and nudes that he gets noticed. His portrait, Mademoiselle A., permits him to be accepted to the Salon des Artistes Français in 1865, where he will exhibit until 1884.
Trouillebert traveled a lot throughout France including Sarthe, Limousin, Loire, the banks of the Seine, and especially Brittany. Trouillebert also had a deep passion for fishing, which explains how he lays out his subjects and certain elements in his paintings. He also had a remarkable way of being able to transcribe on a canvas the lighting and effects of a landscape during different times of the day.
Trouillebert joins the traditional open-air painter's movement and says this to a journalist from the magazine L'Echo of Paris in 1890, "I only work with nature, and I condone the act of copying artwork in a studio."
Museums:
Paris, Musée d'Orsay
Paris, Petit Palais
New York, The Metropolitan Museum of Art
Baltimore, Walters Art Museum
Cleveland, Museum of Art
Saint Petersburg, Hermitage Museum
Valparaiso, Fine Arts Museum
Bibliography:
« Paul Désiré Trouillebert (1829-1900) » par Claude Marumo, Thomas Maier et Bend Müllerschon.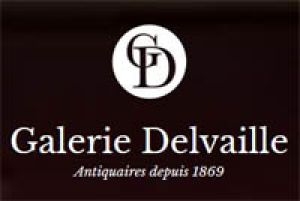 Paul-Désiré Trouillebert - A Bridge near Nangis - New York, The Metropolitan Museum of Art