Louis Valtat was born in Dieppe, France, in 1869 into a family of ship-owners. In 1887, he attended the Ecole des Beaux-Arts of Paris. Next, he studied at the workshop of Gustave Moreau and then at the Académie Julian. Starting in 1889, he exhibited at the Salon des Indépendants.
Like many artists of his generation, he inherited Neo-Impressionism. This influence is stimulated by Cross and Signac, his friends and neighbors in Anthéor (near Lavandou and Saint-Tropez). He lived there from 1889-1914. Valtat, who painted with pure and violent colors as early as 1894, is akin to the Nabis movement.
Valtat participated in all the Fauvism events. In 1903, he participated in the first Salon d'Automne where he presented landscapes with an extremely colorful palette foreshadowing the Fauve movement. Ambroise Vollard began to take an interest in his work and decided to organize Valtat's first solo exhibition.
In 1905, he exhibited at the Salon d'Automne in the Cage aux Fauves with Marquet and Matisse; Valtat is the most noticed artist at the exhibition. However, his position in the movement is ambiguous: leader on one end, yet follower on the other. Valtat nevertheless has a closer relationship with Guillaumin and Cross than Matisse (even though they are extremely similar).
Valtat settled in the Paris region in 1914. He started to evolve independently in a style that was always conscious of the balance of color. That year he started returning more often to Normandy, the place where he grew up and where the scenes of ports and landscapes in his paintings come from.
In 1948, Valtat became blind and realized he will never paint again.
In 1952, a major retrospective tribute to his work was organized at the Salon d'Automne.
"He was a very comprehensive painter, a painter of small precious compositions with a generous and varied inspiration; he was a great artist and also a precursor," Ambroise Vollard.
Our painting illustrates Valtat's attraction to Fauvism. The use of daring contrasts and pure color does not alter the harmony and balance of the composition. The combination of non-complementary colors, cold and/or warm, as well as the black lines makes this painting a powerful artwork.
Museums:
New York, Metropolitan Museum of Art
New York, Museum of Modern Art
Saint Petersburg, Hermitage
Brussels, Musée Royal
Bordeaux, Musée des Beaux-Arts
Paris, Petit Palais
Paris, Musée d'Orsay
Bibliography:
E. Bénézit, Dictionnaire des peintres, sculpteurs, dessinateurs et graveurs, Tome 14, pages 30-31.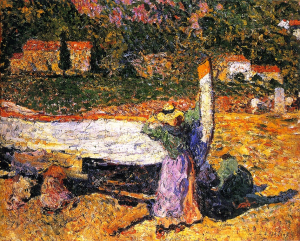 Louis Valtat - Boat, 1899 - St. Petersburg, Hermitage