Léon Augustin Lhermitte was born on July 31, 1844 in Mont-Saint-Père (Aisne, France).
He comes from a modest background which results in him having a deep attachment to rural life and devotes the majority of his artwork to that subject.
He moves to Paris in 1863 where he will attend the école impériale de dessin.
Lhermitte exhibits for the first time in Paris at the Salon des Artistes Français in 1864.
At the beginning of his career he will live off of the small engravings he creates. It is not until 1874 at the Salon that he starts to become successful.
His full dedication to his career comes after 1880 where he will successfully paint several largescale paintings with the subject being the rural life from his hometown village of Mont-Saint-Père.
Art dealer, Paul Durand-Ruel, exhibits the artwork of Lhermitte.
In 1890, he becomes one of the founders of the Société Nationale des Beaux-Arts, and later becomes the vice president.
He also participates in numerous collective exhibitions, with the most famous being the Exposition Universelle of 1900.
He dies in Paris on July 28, 1925.
Museums:
Paris, Musée du Louvre
Paris, Musée d'Orsay
Paris, Petit Palais
Marseille, Musée des Civilisations de l'Europe et de la Méditerranée
New York, Metropolitan Museum of Art
Boston, Museum of Fine Arts
Chicago, Art Institute
Washington D.C., Corcoran Museum
Bibliography:
E. Bénézit, édition Gründ, Tome VIII, pages 626-627.
De Pelley-Fonteny, Monique, Léon Augustin Lhermitte (1844-1925), catalogue raisonné, Paris, 1991, ill. page 178 nº 87.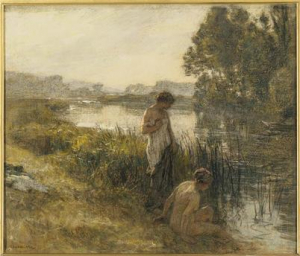 Léon Augustin Lhermitte - Two Bathers at the Edge of a Pond - Paris, Musée d'Orsay