Karl Daubigny was born in 1846 in Paris.
He was the son and student of Charles F. Daubigny.
At the beginning of his career he is greatly influenced and inspired by his father's technique. Little by little he will start to progressively develop his own personal style.
He will make his debut at the Salon of 1863 where he exhibits two paintings which reveal his style and preference for nature scenes, in particular spring.
Daubigny continues to exhibit his work at the Salon, and he receives medals in 1868 and 1874.
He enjoys painting scenes of Normandy, the forest of Fontainebleau, and the banks of the Oise River. Unfortunately, his career comes to an abrupt end, because he dies at the age of forty. Karl Daubigny is one of the most skilled landscape painters of the second half of the 19th century.
In 1871, he accompanies his father to a trip to Holland, where he brings back several completed landscape paintings.
Our painting is one of his souvenirs from his trip to the Netherlands. He painted windmills on a river bank lined with calm, shimmering water under a grey-blue sky, with some light peeking through the clouds. It is a chromatic palette of somber tones which are disrupted by the subtle sunlight that shines through. The composition is painted using the impasto technique and there are visible brushstrokes.
Daubigny's desire was to dive deep into his art while pursuing the objective of painting a truthful representation of nature when it is the most beautiful.
Museums:
Paris, Musée d'Orsay
Blois, Musée des Beaux-Arts
Bayonne
Aix-en-Provence
Bibliography:
E. Bénézit, édition Gründ, Tome IV, page 263.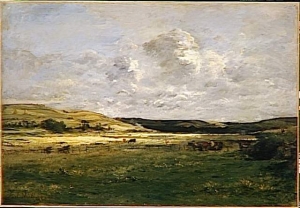 Karl Daubigny - Valley of the Scie, near Dieppe - Musée d'Orsay, Paris