Madame Isabelle de Lannoy confirms the authenticity of the painting which will beincluded in volume 3 of the catalogue raisonné of this painting in the process of being painted
French School, oil on canvas (there is an inscription on the back of the frame in blue chalk #4373)
Jean-Jacques Henner was a French painter and born in Bernwiller (Haut-Rhin) on March 5th, 1829.
Henner took his first drawing classes at Altkirch Middle School with Charles Goutzwiller from 1841 to 1843, and then trained at the studio of Gabriel-Christophe Guérin in Strasbourg.
In 1858, he was awarded the Prix de Rome for his composition Adam and Eve Found the Body of Abel. This gives him the opportunity to have access to the Medici Villa in Rome for five years (1858-1864).
Back in France in 1864, Henner settled permanently in Paris. He moved in 1867 to an art studio in Place Pigalle where he worked alongside Pierre Puvis de Chavannes who lived in the same building as him. He started his career at the Salon successfully and was able to cumulate orders for portraits. The State also purchased some of his artworks. He received several medals from Salons like at the Salon of 1865 and at the Expositions universelles. Henner was elected as a member at the Académie des beaux-arts in 1889.
He became known and popular thanks to his patriotic painting, L'Alsace, elle attend, which he painted in 1871 after the French defeat. In 1903, he became grand officier of the Légion d'honneur.
Henner is the creator of artworks that have been abundantly presented in many museums. During his lifetime he had a reputation of being a well-liked portraitist and drawer. He is best known for his numerous nudes of female figures with pale skin, red hair, and languid poses.
After a life devoted to painting, he died in 1905 in Paris.
Our painting shows the talent of the artist. Nudes and landscapes are often merged in Jean-Jacques Henner's paintings. The red hair lures the viewer's eye to the voluptuous naked and languid woman while at the same time the amber color also captures the eye. Then the viewer's gaze drifts off into the romantic landscape. Combining idealization, realism, and romanticism, this painting immersed in sensuality captures the viewer and takes them into an ideal universe which is similar to the painting, Idylle, which is kept in the Musée d'Orsay.
Museums:
Paris, Musée d'Orsay
Paris, Musée National Jean-Jacques Henner
Paris, Musée du Petit Palais
Québec, Musée national des Beaux-Arts
Washington D.C., National Gallery of Art
Bibliography:
E. Bénézit, édition Gründ, Tome VI, pages 898 – 899.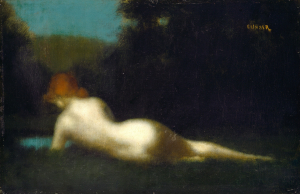 Jean-Jacques Henner - Nude Figure Lying Down - Washington D.C., National Gallery of Art