Jean Baptiste Olive was born in Marseille on July 31st, 1848. He began his internship in the workshop of Antoine Vollon where he learned to depict realism in still life. He went to Paris where he made decor for the winter circus and the Sacré-Coeur of Montmartre. In 1874, he debuted at the Salon des Artistes Français of Paris, where he exhibited his first landscapes. Around 1882, he lived between Paris and Marseille where he kept a workshop on Canebière (a street in Marseille).
At the Salon of 1886, Jean Baptiste Olive won a medal for a landscape painting of Marseille.  This stared a great recognition of his paintings that are recognizable by the bright light from the midday sun. In 1889, he made decorations for the pavilions of the Exposition Universelle.
At the end of the nineteenth century, Jean Baptiste Olive is undoubtedly one of the most prominent painters of Midi, along with Paul Guigou and Adolphe Monticelli. The landscape of Provence provides him with most of his subjects for his paintings. Even though Mediterranean landscapes - marine and views of the port – make up the most of his artworks, J. B. Olive also leaves us with some magnificent still lifes. A thick material, effects of light close to the impressionists and skillful composition characterize the art of this luminous painter.
► Our painting is a large still life made around 1880. This precocious and rare artwork is characterized by a carefully studied composition, which features a wide variety of fruit and objects around the theme of tasting. The talent of JB Olive already asserts itself with force: the realism of each detail is obtained thanks to a painting all in pure material. The effects of light give life to the many elements of the composition: the partially peeled fruit reveal their juicy interior; reflections on glassware, ceramics and silverware give the objects their volume. Finally, the artist has taken a particular care in the treatment of fabrics, whose drawings of flowers and leaves are delicately detached on silky and draped backgrounds. The original frame, in wood and golden stucco, is superb. This is undoubtedly the original setting, which shows the rapid success that Jean-Baptiste Olive has obtained from the beginning of his career.
Museums:
Paris, Musée d'Orsay
Aix en Provence
Béziers
Nîmes
Etc.
Bibliography:
E. Bénézit, édition Gründ, Tome 10, page 357.
Jean-Claude et Gérard Gamet : Jean-Baptiste Olive : sa vie, son œuvre, édition Frébert, Marseille, 1977.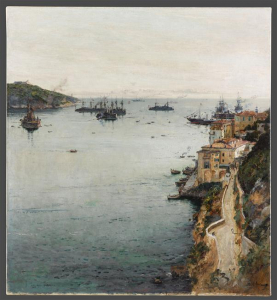 Jean-Baptiste Olive - The Harbor of Villefranche -
Paris, Musée d'Orsay