Henri Emilien Rousseau was born on December 17th, 1875 in Cairo to French parents.
He was a watercolorist, drawer, illustrator, orientalist, painter of landscapes, and used gouache.
Rousseau was the student of Jean-Léon Gérôme. Thanks to a travel grant that he received in 1900, he visited Holland first, and then Belgium. The following year he visited Spain, Tunisia, and Algeria. Rousseau returned to North Africa several times before the First World War. During 1920-1932, he worked in Morocco.
He exhibited in Paris at the Salon des Artistes Français, and participated in exhibitions in Belgium, Holland, England, Sweden, Brazil, Argentina, and Japan.
His favorite subjects are scenes of nomadic life, cavaliers in movement, and vast landscapes inspired by North Africa or of Camargue.
He died on March 28th, 1933 in Aix-en-Provence.
Our painting is exceptional because it is a very beautiful composition with five horses and riders in full motion, whereas in most of his paintings, Henri Emilien Rousseau paints only one or two riders. The talent of this artist is evident in his magnificent depiction of Arabian horses. He manages to display the power of their musculature and the silkiness of their coats. Also, the sky is bright blue accompanied by airy clouds. The blueness of the sky is particularly present in this painting and helps to enhance a large space. The sky is outlined by the Atlas Mountains and appears in the background. Finally, the painter perfectly masters the effects of transparency in the depiction of the soil which can be seen in the multiple shades of browns and greens.
Museums:
Amiens, Musée des Beaux-Arts
Nantes
Paris, Musée du Louvre
Versailles
Bibliography:
E. Bénézit, édition Gründ, Tome XII, page 28.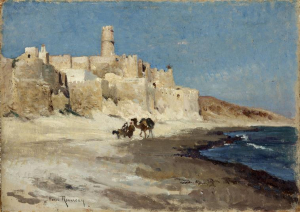 Henri Emilien Rousseau - Monastir - Chambéry, Musée des Beaux-Arts