Henri-Alphonse Barnoin was born in Paris in 1882, into a family of artists. His father and uncles were also painters. He was a student of Alfred de Richemont and Emile Dameron, at the Ecole des Beaux-Arts of Paris.
In 1909, Henri Alphonse Barnoin exhibited for the first time his artworks at the Salon of Paris and obtained an honorable mention. This will be followed by a silver medal in 1921 and a gold medal in 1935.
Barnoin frequented Concarneau from 1912-1913 and in 1920, he moved there to open his workshop gallery. He then became part of the Concarneau group; this is the name given to the numerous French and foreign painters attracted by the city and its region during the end of the 19th century and in the first half of the 20th century.
Henri Alphonse Barnoin painted many Breton ports (Quimperlé, Quimper, Locronan, Penmarc'h, Douarnenez, etc.), but also groups of Breton people in traditional dress, fishermen and other port themes, market scenes, procession scenes, and landscapes of rocky coasts.
He became an official painter of the Navy in 1926.
He died in Paris in 1940. The museum of Faouët devoted a substantial retrospective of his artwork in 2006.
Our painting is representative of the talent of Henri-Alphonse Barnoin. The white sails of the boat reflecting back the sunlight is beautifully depicted. The artist manages to recreate the intense activity of the port of Marseille. The hill and buildings overlooking the harbor help to create a perspective. The depiction of the sky, light, and shadows is remarkable.
Museums:
Musée des Beaux-Arts of Quimper
Musée du Faouët
Bibliography:
E. Bénézit, édition Gründ, Tome I, pages 765-766.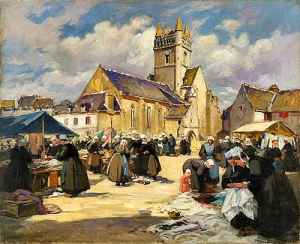 Henri Alphonse Barnoin - Market at Quimperlé - Musée des Beaux-Arts in Quimper