Gustave Bienvêtu was a French painter born in 1850 in Batignolles.
His father, Auguste Étienne Bienvêtu, was left as a child at the Hôpital de Chartres in 1825 swaddled in a rich fabric, hence his last name (Bienvêtu means well-dressed). In 1850, Auguste Étienne married Marie Journal and in the same year Gustave was born. They moved as a family to Colombes in 1874.
He was the student of Jules Petit and Aumont and specialized in the painting of still lifes and flowers. He exhibited at the biggest art salons of the time, including the Salon des Artistes Français where he received honors in 1906. His floral compositions, characterized by their delicateness and harmony of colors, are particularly decorative.
He was also engaged in his community by becoming a member of the City Council of Colombes in 1881 and he was elected mayor of his town in 1887.
He died on September 15, 1916, in Colombes.
On the occasion of the 100th anniversary of his death, the musée d'art et d'histoire locale de Colombes put together an exhibition titled "In the Studio of Gustave Bienvêtu (1850-1916)."
Our painting takes into account all of the talent of this artist. The composition is neat: the flowers and stems at the top of the composition seem to go upwards when the stems on the bottom seem to go towards the front. The petals are silky and delicate and were cleverly put together with multiple light brushstrokes. The bouquet stands out on a background made out of nuances of brown and gray.
Museums:
Musée d'Art et d'histoire de Colombes
Musée Saint Nazaire de Bourbon-Lancy
Bibliography:
E. Bénézit, édition Gründ, Tome II, page 301.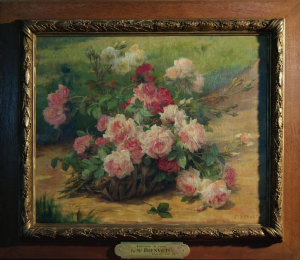 Gustave Bienvêtu - Basket of Roses - Musée de Saint Nazaire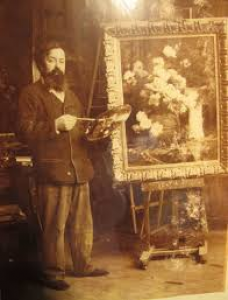 Gustave Bienvêtu in his Studio in Colombes