Gaston de La Touche (known as Gaston La Touche) was born on October 29, 1854 in Saint-Cloud.
From an early age, Gaston La Touche expresses the desire to take drawing lessons. He starts his apprenticeship in 1864, with a man named Mr. Paul – who is a professor in drawing – and he quickly notices La Touche's natural ability and encourages him to persevere. Interrupted by the Franco-Prussian War in 1870, La Touche had to leave his hometown with his family, and they took refuge in Normandy in Champsecret. During this period in his life, he does not do any other formal artistic training. At the beginning of his career, he is greatly influenced by the artworks of Edouard Manet, from which he gets advice from Manet himself.
In 1890, his encounter with Félix Bracquemond was decisive in the evolution of his career and marked a turning point in his creativity. As a result, his chromatic palette is now primarily made up of lustrous colors.
That same year marks the inauguration of the Salon de la Société Nationale des Beaux-Arts at the Palais de l'Industrie in Paris under the management of Meissonier (1815-1891), and of Bracquemond (1833-1914). This Salon had an ongoing rivalry with the Salon Officiel de Paris.
Before becoming a member of the Société Nationale des Beaux-Arts, La Touche was a member of the Artistes Français in 1883. He is awarded medals in the 3e classe in 1884, and the 2e classe in 1888. He receives the bronze medal at the Exposition Universelle of 1889 and the gold medal in 1900.
La Touche was a talented colorist who was able to perfectly master the techniques of oil painting, watercolor, and pastel.
His artistic touch is similar to that of Impressionism. His subjects resemble and are inspired by the gallant scenes of the 18th century artwork from the artist Jean-Antoine Watteau (1684-1721). La Touche creates dreamy and vaporous atmospheres while still giving a presence of symbolism in his paintings.
La Touche made decorative panels for the town hall of Saint-Cloud, the Ministry of Justice in Paris, and the Villa Arnagua of Edmond de Rostand in Cambo-les-Bains.
Five of his paintings are preserved at the Musée d'Orsay in Paris today.
Our painting is the first version of the monumental painting, The Poet, which is at the Musée d'Orsay in Paris and dated 1910.
Museums:
Paris, Musée d'Orsay
Paris, Petit Palais
Chicago, The Art Institute of Chicago
Versailles, Château
Marseille, Musée des Beaux-Arts
Rouen, Musée des Beaux-Arts
Beauvais, MUDO
Bibliography:
E. Bénézit, Gründ édition, Tome VIII, pages 311-312.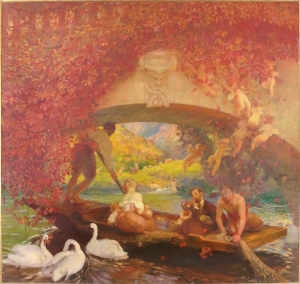 Gaston La Touche - The Poet, 1910 - Paris, Musée d'Orsay