Fritz Thaulow was born in Oslo in 1847. He trained at the académie des Beaux-Arts in Copenhagen from 1870 to 1872, under the direction of the seascape painter Carl Frederik Sørensen. From 1873 to 1875 at the académie des Beaux-Arts in Karlsruhe, Thaulow was a student under the direction of Hans Gude.
During his first trip to Paris in 1874, Thaulow discovered Impressionism the very first time he met Claude Monet. He later became friends with Monet. Thaulow was also close to Rodin, who presented him to Scandinavian artists who were passing through Paris.
In 1892, Thaulow went back to France, where he specialized in French landscapes and in particular the small towns up north (Dieppe, Montreuil, etc.). Under the charm of the town of Dieppe, he built his studio there which he went to for many years. He also went on several trips to Italy, the United States, Spain, and the Netherlands.
Thaulow was part of collective exhibitions in Munich, Berlin, and Paris, as well as the Salon des Artistes Français and the Salon of the Champ de Mars where he exhibited starting in 1890.
Thaulow stayed very attached to the realism that is taught in Nordic schools when it came to his painting style. However, when he painted water, his influence from impressionism could be felt through his painting. Thaulow excelled in the accurate depiction of views of canals, river banks, and small villages that were lit by the moon or buried under the snow.
A great colorist, he is considered as one of the greatest European landscape painters. He created paintings that were particularly realistic, and he rendered the effect of nature in movement. Thaulow liked to completely immerse himself in that subject. His new painting outlook seduced an international public. He was very close to the French artistic inner circles and he rubbed shoulders with many painters including: Lhermitte, Carolus-Duran, and Jacques-Emile Blanche.
Thaulow also received many honors and awards, a medal in Berlin in 1886, a medal in Munich in 1890, another medal in Vienna in 1894, and the Grand Prix in Paris in 1900 for the Exposition Universelle. He was appointed member of the Jury international des Beaux-Arts at the Exposition Universelle of 1889, member of the Académie des Beaux-Arts de Munich in 1890, promoted Chevalier de la Légion d'Honneur in 1889, and Officier de la Légion d'Honneur in 1901.
He died on November 5, 1906, in Volendam, Netherlands.
Museums:
Paris, Petit Palais
Paris, Musée d'Orsay
Philadelphia, Museum of Art
Etc....
Bibliography:
E. Bénézit « Dictionnaire des Peintres Sculpteurs Dessinateurs et Graveurs », tome 13, pages 562-563.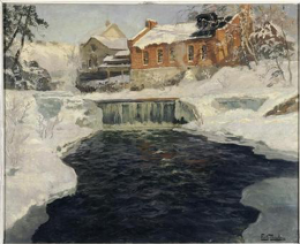 Fritz Thaulow - Snowy Landscape - Paris, Petit Palais