Ferdinand Roybet was born on April 12, 1840 in Uzès, Gard (France). He was a genre painter, portraitist, and engraver.
He began studying engraving in Lyon, and then moved to Paris in 1864, where he became the student of Vibert.
In 1866, he submitted a painting to the Salon titled, Un fou sous Henri III, which then became acquired by Princess Mathilde. This purchase ensured his reputation and determined the subject/style he liked to paint.
He was awarded several  médailles d'honneur  at the Expositions Universelles of Antwerp in 1894, Berlin, and Vienna.
In 1871, he visited museums in Holland and painted many copies of paintings by Rembrandt and Franz Hals.
Roybet has painted several portraits that are well-known including: Mme Gibson, MM. Georges de Dramard, and Antoine Guillemet.
At the end of the 19th century, Roybet  is one of the central figures in portraiture and interior scenes. Roybet virtuously fulfilled the artistic desires of his rich patrons because without a doubt he was most probably tired of painting traditional 19th century style bourgeois portraits.
From Franz Hals, Roybet takes the power of form, and from Rembrandt, the fervour of his quest for the soul of the model. The artist paints with a quick and precise touch these characters dressed in the 17th century style.
Our painting, a gallant scene, is a particularly successful work by Roybet, whose abundant production is sometimes less accomplished. The artist manages to represent the characters with remarkable realism. We will note the care given to the smallest details, the richness of the costumes, the grace of the postures and the particularly lively character of the scene.
French school, 
With frame: H. 69,2 x W. 59,2 cm (H. 27.1 x W. 23.2 inches)
Museums:
Avignon, France
Bordeaux, France
Paris, Musée d'Orsay
Mulhouse, France
New York City, New York
Bibliography:
E. Bénézit, édition Gründ, Tome XII, pages 58-59.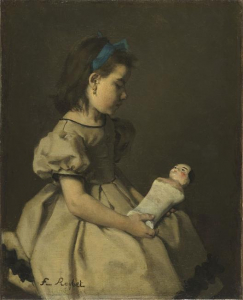 Ferdinand Roybet - A Little Girl and her Doll - Paris, Musée d'Orsay