Eugène Modeste Le Poittevin was born on July 31, 1806, in Paris.
He was the student of Hersent and Xavier Le Prince. He exhibited at the Salon starting from 1831 to until his death. He presents a large number of seascapes that bring him great success. Le Poittevin is awarded several medals in 1831, 1836, 1848, and 1855.
He is also a member of the Académies in Antwerp and in Berlin.
Le Poittevin exhibited many times in Germany, and especially in Berlin and Dresden.
Eugène Le Poittevin is the uncle of the French writer, Guy de Maupassant. He frequents the inner elite Parisian literary circles and becomes friends with Gustave Flaubert.
With his good friend, painter Eugène Isabey, he discovers Étretat in Normandy. For Le Poittevin it was love at first sight and he decided to build a chalet-studio which he names, La Chaufferette.
In 1869, Le Poittevin receives his artist friend Gustave Courbet in his studio.
One year later, on August 6, 1870, he dies in Auteuil.
Museums:
Paris, Musée du Louvre
Rennes, Musée des Beaux-Arts
Versailles, Château
Fécamp
Beauvais, MUDO
Bibliography:
E. Bénézit, édition Gründ, Tome 8, page 541.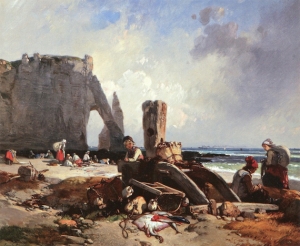 Eugène Modeste Le Poittevin - Étretat - Musée de Fécamp