Emile Villa was born in Montpellier on April 25, 1836.
He was a genre scene painter, portraitist, animal painter, caricaturist, and illustrator.
1861: Villa attended the école des Beaux-Arts in Paris. He was the student of Charles Gleyre and Auguste Glaize.
1859 to 1882: he exhibited at the Salon des Artistes Français.
1876: he is awarded an honorable mention
1889: Villa is awarded an honorable mention at the Exposition Universelle of 1889
His delicate genre scenes are reminiscent of 18th century paintings.
Museum:
Montpellier, Musée Fabre
Bibliography:
E. Bénézit, édition Gründ, Tome 14, page 241.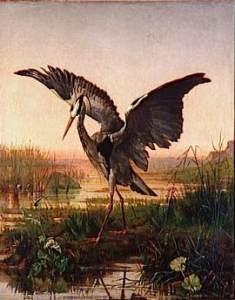 Emile Villa - The Heron - Montpellier, Musée Fabre