Marie-Guillaume Charles Le Roux (1814–1895) was a landscape painter of the Barbizon school. He was born and died in Nantes, and is noted for his paintings of the Loire and its surroundings.
Student of Corot, he began at the Paris Salon and obtained medals in 1843, 1846, 1847, 1859.
From 1860 to 1870 he was elected three times successively deputy of Deux-Sèvres, after being mayor of Corsept.
He organized and hosted an artistic activity around Nantes by regularly inviting his friends Théodore Rousseau, Camille Corot, Gustave Doré, Louis Cabat, etc.
His ability to render the effects of nature was widely praised by critics. Theophile Gautier wrote about him: "Although he is a student of Corot, Mr. Charles Le Roux seems to have, apart from any imitation, a kinship of temperament with Theodore Rousseau. He sees nature as a colorist. His execution risky, fiery, brutal in appearance, hides a lot of finesse and an exceptional search for colors."
Rising sea at Préfailles is a Salon painting, that is to say that it was chosen by the artist himself to be presented at the exhibition of May 1876, at the Palais des Champs-Elysées.
In this painting, Charles Le Roux displays all his talent as a landscape artist, his remarkable ability to represent the sky, the way the light plays on the sea and the movement of the waves with the wind. The painting is presented within its exceptional original frame.
Museums:
Paris, Musée d'Orsay
Paris, Musée d'Art Moderne de la Ville
Beaufort, Musée des Beaux-Arts
Besançon, Musée des Beaux-Arts
Nantes, Musée des Beaux-Arts
Bibliography:
Bénézit, Gründ édition, Tome 8, p. 557.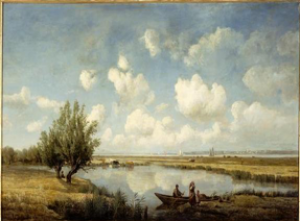 Charles Le Roux - Meadows and Swamps of Corsept at the Mouth of the Loire - Musée d'Orsay