Charles Kvapil was a Belgian painter of the École de Paris. He was of Czechoslovakian origin and born in Czechoslovakia on November 1, 1884, and he died in Paris in 1957.
Charles Kvapil studied at the Académie royale des beaux-arts in Antwerp. His first artworks were exhibited in 1908 at the Salon of Antwerp. In 1911, he exhibited in Munich and these artworks showed that he was influenced by Cubism. In 1914, he exhibited in Belgium at the Triennale of Brussels.
He was enlisted during WWI, and after the armistice he set up his studio in Montmartre (Paris) in the Hameau des Artistes.
At the Salon des Indépendants of 1920, Charles Kvapil finally reveals himself to the Parisian public.
He is best known for being a figure painter and in particular for his representations of voluptuous nudes, but he also painted numerous landscapes and still lifes that make up a good portion of his career.
Charles Kvapil was influenced by: Fauvism, a very light form of Cubism, Paul Cézanne, and to a certain extent Matisse (as a colorist). His paintings are original and modern, and his nudes and bouquets of flowers are strong and powerful.
In his lifetime he exhibited in Paris, Munich, Brussels, Geneva, Italy, Stockholm, London, and New York.
Today his paintings are in numerous public and private collections, including the Musée d'Art Moderne of Paris.
Our painting is a testimony of the artist's talent. It is obvious that the composition is of high quality and there was care given to the arrangement of the various elements. The painter used a palette rich in cobalt blue and warm colors. The vibrant yellow of the lemon stands out from the dark background of the vase. The shadows outlined by the objects on the table are delicately painted. The curtain in the background is perfectly rendered and its blue color makes it so that the bouquet pops out and shows each unique flower.
Museums:
Paris, Musée d'Art moderne
Amsterdam, Musée d'Art moderne
Chambéry, Musée des Beaux-Arts
Le Havre, Musée des Beaux-Arts
Lille, Palais des Beaux-Arts
Tunis, Musée National d'art moderne
Bibliography:
E. Bénézit « Dictionnaire des Peintres Sculpteurs Dessinateurs et Graveurs », tome 8, pages 100-101. »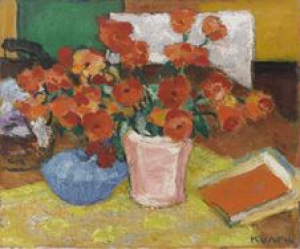 Charles Kvapil - Red Flowers - Lille, Palais des Beaux-Arts