Charles de Meixmoron de Dombasle (1839 - 1912) is a French impressionist painter, born in 1839 in Roville-devant-Bayon in Lorraine. Encouraged in the artistic path by his father who was himself an art lover, Charles de Meixmoron perfected his drawing technique in Joseph Louis Leborne's studio, who painted in the wake of Corot, and who was the director of the Nancy School of Fine Arts.
Following the sudden death of his father in 1860, Charles de Meixmoron took over the management of the family farm machinery factory; he successfully developed industrial activity at a time when agriculture was becoming mechanized in the mid-19th century. Nevertheless, Charles de Meixmoron remained faithful to his first passion, and actively participated in the exhibitions organized by the Société lorraine des Amis des Arts from 1860 onwards, as an exhibiting artist and member of the jury. He then held the Presidency of the Society from 1868 to 1892 and introduced the Parisian Impressionists to it.
He made his debut at the Salon de Paris in 1866 with "Forêt près Martinville" (Haute Saône). His meeting with Claude Monet in 1873 was decisive. His pictorial style then changed: he abandoned his palette similar to that of the Barbizon School and tried new and constantly renewed designs, with clear and luminous tones. In 1890, he participated in the first exhibition of the National Society at the Champ de Mars and continued to exhibit there until 1908. He also participated in the 1900 Universal Exhibition where he received a Mention.
Charles de Meixmoron reproduced the streets and squares of Nancy but, as an outdoor enthusiast, he paints mainly landscapes and excels in representing views of villages, woods, fields and lakes.
In 1962, the Nancy Museum of Fine Arts devoted a major retrospective exhibition to him.
This work was undoubtedly painted by Meixmoron after his meeting with Claude Monet. The treatment of water, sky and vegetation is quite impressionistic. In addition, the large format and beauty of the subject make it one of the most important works of this unknown artist. The colourful palette allows to show all the nuances of the trees' foliage and of the lake surface. The sketched silhouettes illustrate Charles de Meixmoron's ability to capture the moment. The painting gives an impression of softness and joie de vivre.
Museums:
Nancy, Musée des Beaux-Arts
Toulouse, Musée des Beaux-Arts
Bibliography:
E. Bénézit, édition Gründ, Tome IX, page 454.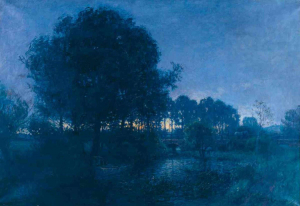 Charles de Meixmoron de Dombasle
Four o'clock in the morning in Diénay or Night Effect
Musée de l'école de Nancy