Camillo Innocenti was an Italian painter born on June 14, 1871, in Rome.
Innocenti was a self-taught painter. He traveled a lot and was inspired by masters of the 18th century. He stayed regularly in Paris. In 1902, he was awarded the Medal of Honor at the Salon des Artistes Français in Paris.
He lived in Egypt for about twenty years and directed the Ecole des Beaux-Arts in Cairo from 1925 to 1940.
Camillo Innocenti quickly specialized in genre scene paintings that represented various human activities. He made sure to paint his compositions in a meticulous way. He gained a reputation because of his choice of subjects which often contained a touch of humor and by the finish of his paintings.
Our painting is one of the few orientalist compositions by this artist. It is important to note the balance of the composition, the time given to each detail, and the ability of the painter to be able to recognize the differences in shadows and lighting on the fabrics. Also, there is a remarkable contrast of the bright colors of the fabrics, clothes of the figure, and fruit, as well as the somber feeling of the background. The painting is in its original very beautiful frame.
Museums:
Melbourne Museum
Musée d'Orsay, Paris
Modern Art Museum of Rome
Musée Chéret de Nice
....
Bibliography:
E. Bénézit, édition Gründ, Tome VII, p. 355.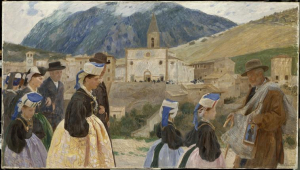 Camillo Innocenti - Bridal Procession in Abruzzo - Musée d'Orsay