Amédée Rosier was born on August 26, 1831 in Meaux, Seine et Marne (France).
He began his apprenticeship painting landscapes and seascapes with Léon Cogniet.
1857: Salon des Artistes Français of Paris
1889: Bronze medal at the Exposition Universelle
He was charmed by Italy and lived there for a long time.
Like Félix Ziem, Rosier paints with a lot of spirit and skill scenes of Venice and Egypt.
He is known for being a talented colorist.
The Campo San Giovanni e Paolo is a large square in the Castello district of Venice. The church bearing the same name is next to the Scuola Grande di San Marco. This beautiful composition presents an unusual view of Venice.
Museums:
Paris, Musée d'Orsay
Compiègne, Château
Rennes, Musée des Beaux-Arts
Pau, Musée des Beaux-Arts
Bibliography:
E. Bénézit, édition Gründ, Tome XI, page 916.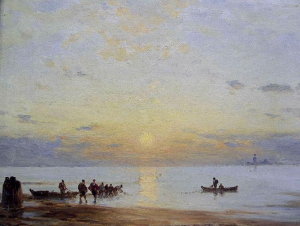 Amédée Rosier - Sun Setting on the Lagoon - Pau, Musée des Beaux-Arts