Alexandre Defaux was born in 1826 in Bercy.
He paints animals and animated landscapes. He is also a painter of gouache, watercolorist, and a drawer.
He is a student of Corot.
Defaux is a delicate artist so he was able to paint with charm in both oil and watercolor.
During the Exposition Universelle of 1900, he receives a gold medal.
He painted mainly landscapes of Normandy and scenes of the Fontainebleau Forest.
He was gifted in being able to represent nature in its purest form. Defaux was able to capture in his own paintings some of the piercing charm and qualities of a colorist that he learned from his master.
Museums:
New York
Amiens
Caen
Grenoble
Liège
Strasbourg
Sydney
Bibliography:
E. Bénézit, édition Gründ, Tome IV, pages 339-340.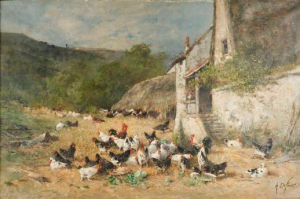 Alexandre Defaux - Farmyard at Château-Landon - Rennes, Musée des Beaux-Arts