Albert Lebourg was born on February 1, 1849, in Montfort-sur-Risle (Eure, France). His father was a clerk of the court. Albert Lebourg always had a strong connection with nature. In his youth, he meets artist Victor Delamarre, who gave him artistic advice during the beginning of his career. At barely twenty years old, he is accepted into the studio of Drouin, who is an architect and drawing teacher at Rouen. Lebourg also attends drawing classes taught by Gustave Morin, who is the director of the École Municipale de peinture et dessin of Rouen. Young Albert receives a formal, traditional, academic artistic training. At that time, his style was mostly focused on the Romanticism of 1830. 1872 is an important year for Lebourg because he exhibits at the 23e Salon Municipal de Rouen next to Corot, Monet, Pissarro, Sisley, and Ziem. Mr. Laperlier, who was a famous art collector and president of the Société des Beaux-Arts of Algiers (Algeria), was interested by Lebourg's art and offered him a job as a drawing teacher. Lebourg is immediately seduced by the city of Algiers. He will teach until 1876, and he dedicates his free time to painting landscapes in open air. This rich experience drives him to lighten up his chromatic palette. He comes back to Paris in 1878, where is trained by Jean-Paul Laurens, a history painter and student of Léon Cogniet, just like Gustave Morin. However, the training does not satisfy the young artist who was in love with landscapes. Lebourg participates in the impressionist movement and exhibits his artwork at the 4th and 5th Expositions Impressionistes in 1879 and 1880. Starting in 1884, he goes on numerous trips to Auvergne, Holland, Belgium, and England, where he admires the artwork of Turner, Constable, and Gainsborough. In 1903, he is awarded the Chevalier de la Légion d'Honneur. His favorite subjects to paint are scenes of Paris, regions around Paris: Nanterre, Rueil, Chatou, Marly, and Normandy as well. He likes to transcribe on his small-format compositions the atmosphere that emerges from a landscape that he is looking at. It is during the process of creating a painting of Paris that he says, "It is especially when painting this type of painting that you really realize that you need to show the sensation of things and not copy things; a painting is not a photograph."
Museums:
Paris, Musée du Louvre
Paris, Musée d'Orsay
Paris, Musée Carnavalet
Paris, Petit Palais
Angers, Musée des Beaux-Arts
Caen, Musée des Beaux-Arts
Dunkerque, Musée des Beaux-Arts
Lille, Musée des Beaux-Arts
Rouen, Musée des Beaux-Arts
Bibliography:
E. Bénézit, édition Gründ, Tome VIII, pages 383-384.
François Lespinasse, Albert Lebourg: 1849-1928, Imprimerie ACK, 1983.
Léonce Bénédite, Albert Lebourg, Paris, Editions des « Galeries Georges Petit », 1923.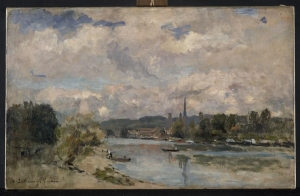 Albert Lebourg - L'île Lacroix à Rouen - Lille, Palais des Beaux-Arts