This is a very beautiful finely carved and lacquered beech wood sofa.
The sofa stands on six tapered, fluted, and rudentés feet. It has S-shaped armrests that are finished off with a scroll. The sofa is ornamented with a coin-like décor, ribbons, and acanthus leaves.
This sofa comes from a set that included four armchairs in which one of them had the stamp of Sené.
It is upholstered in its original tapestry which was done in the workshops of Aubusson at the same time as the woodwork for the sofa.
Carpenter (specialized in chairs): Jean-Baptiste Claude Sené (1747-1803)
Sené is one of the most important carpenters that specialized in chairs during the time of Louis XVI. He came from a large family of carpenters, but it all started with his father, Jean Sené. However, Jean-Baptiste Claude, who became the most successful out of his entire family, was the supplier of furniture for The Crown in 1785. He worked for the King and Queen and contributed in furnishing the furniture for the castles of Versailles, Saint-Cloud, and Fontainebleau.
Museums:
Versailles, Château
Paris, Musée du Louvre
Compiègne, Château
New York, The Metropolitan Museum of Art
Bibliography:
Pierre Kjellberg « Le Mobilier Français du XVIIIème siècle, Dictionnaire des Ebénistes et des Menuisiers »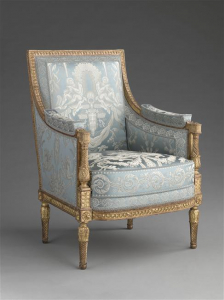 Jean-Baptiste Claude Sené - A la Reine Arnchair - Paris, Musée du Louvre